KI-CHU NEW YORK SPECIAL CURATED COLLECTIONS
You can find your favorite pieces and purchase from our special curated collections. By appointment only. Please request an appointment via our "contact" page.
CERAMICS by Kifumi Kawamura
[USEABLE ART]
KIFUMI KAWAMURA
Kifumi Kawamura was born in Toyota City, Aichi, Japan in 1959. The Kawamura family originally comes from Kyoto, and they have worked as ceramic artists for over one hundred years. Kifumi's grandfather, Kitaro, had inherited the traditional climbing kiln in Kamakura, which once belonged to one of the most famous ceramic artists, Kitaoji Rosanjin. Kifumi took it over from his father, Matajiro, and works at the historic kiln. (Kichuyo)
Kifumi was trained under Matajiro, and also studied sculpture in Nihon University Collage of Art. He is very particular about using clay from Sanage of Aichi prefecture, which has been inherited from Kitaro. Sanage clay is very different from other clay on the market. The clay is not easy to handle, and it is difficult to complete works as planned. However, Kifumi is very intrigued by the power of the clay, and aims to get the most out of the clay's characteristics to create unexpected beautiful pieces. He holds solo exhibitions at various galleries, such as Takashimaya Galleries in Tokyo, Kyoto, Yokohama and Sendai.
LACQUER WARE - Kamakurabori by Hakkodo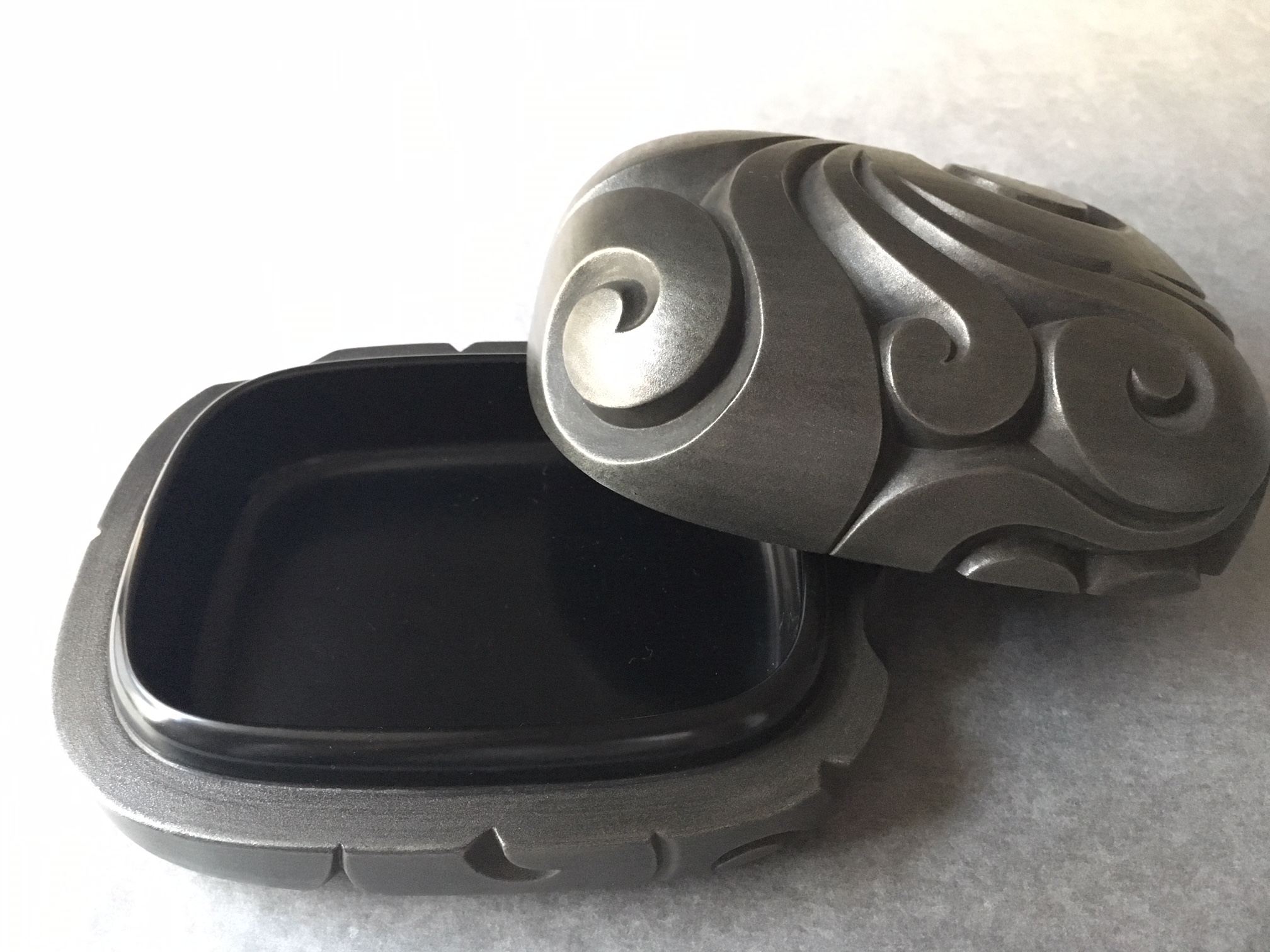 HAKKODO
Hakkodo is the oldest store in Kamakura that specializes in kamakurabori*. The Gotoh family, proprietors of the store, has been sculpting Buddhist images since the Kamakura period (1185–1333), and the Gotoh family are heir to the craftsmanship handed down from father to son for twenty-nine generations. At the Meiji Era (1868 -1912), the demand for Kamakura engravings or carvings increased and new techniques for carving and panting with lacquer were firmly established. At the International exposition in Paris, Washington, Boston, Chicago, Liege and London, displays of this art received many awards. Their techniques and skills have been down from generation to generation. Today their incorporate some modern techniques in their quest to make beautiful objects of art that can be truly appreciated.
KAMAKURABORI * (Kamakura wood sculpting)
Handicrafts, and objects of art are created using ancient techniques. Typically, a pattern is engraved in the wood of the katsura tree, using a sculptor's chisel. It's then painted over several times with urushi lacquer. The whole process takes about one month. The finished product is very durable and can be generally used for a hundred years or more.
PRIVATE CUSTOM EVENTS
Ki-Chu New York offers unique Japanese cultural private events. Please contact us with any inquiries, and request via our "contact" page.